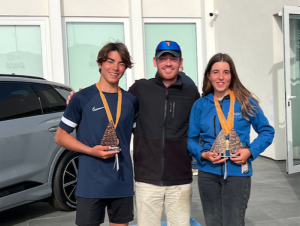 This weekend took place the final of the ILCA 4 Catalan Championship, which was held at the Club Nàutic Vilanova. The sailors of the Club Nàutic Sant Feliu have made great results among the fifty-four participants, among which the third place in the general classification of Quim Ferrer and the triumph as champion of Catalonia U16 and female runner-up of Mireia Garriga stand out.
The results of the CNSFG sailors
Quim Ferrer finished 3rd overall.
Mireia Garriga has been proclaimed champion of Catalonia U16 and runner-up of the women's classification.
Guillem de Llanos was 5th overall.
Alejandro Constans was 15th.
Mireia Garriga was 16th.
Jan Poveda finished 18th.
Antoine Oganesov was 20th.
Sofia Constan was 29th.
Énia Pallí was 32nd.
Anna Ferrer placed 42nd.