Around forty people, including children and parents, participated in the environmental awareness day for children and young people on Saturday, August 6. It is an activity promoted by the Sant Feliu de Guíxols Yacht Club with the collaboration of Ecocean, an entity that ensures ecological restoration and support for ecosystem functions.
Three awareness-raising activities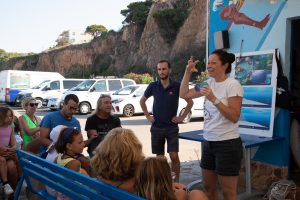 The session consisted of:
Biodiver's city game: game focused on understanding the life cycle of the fish that live on our coast.

Fish Quiz: a team quiz game designed to test children's knowledge of marine biology and environmental protection.

Bioobs: observation of a mini biohut to learn about underwater life in the port of Sant Feliu.
The day has been a success and has contributed to expanding the knowledge of the attendees about the fauna and flora that live in the surroundings of the port of Sant Feliu de Guíxols.