One year after the installation of 15 biohuts under three jetties in the port of Sant Feliu de Guíxols, it has been proven that these artificial habitats for fry fish are contributing to the regeneration of marine biodiversity. The results of this first year of the project were announced on Thursday at the stand held by Ports de la Generalitat de Catalunya at the 60th Barcelona Boat Show.
The annual inspection to monitor it ecologically has been carried out by a team of professional divers from the companies Ecocean, Sublímits, Piscis Diving and the Club Nàutic Sant Feliu de Guíxols.
The method
The review began with a visual inspection of the outside of drawers, pontoons and the wall inside the contradictory by a biologist to know the biological state of the environment.
Next, two biohuts of water sample wrapped in a mesh were extracted to protect the species to collect total life that is encrypted inside, which was deposited in aquariums.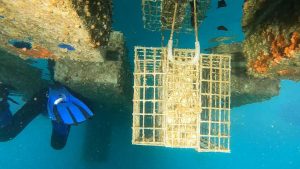 Both out of the water and during the dive, numerous Limariahians have been detected, four species of shrimp, crabs, platyhelminthes, nudibranchia, trypterygion and other fish that have been recorded in a careful inventory. Once the inventory and sorting were completed, the drawers were reassembled and placed back under the jetties along with all the life that had been extracted for their study to ensure their survival.
The results
The technical report of the inspection determines that in these widgets installed under the docks of the port there are currently 363 individuals of 14 different species: 64 arthropods, 280 mollusks, 8 annelids, 8 platihelmints, 3 osteoicts and 27 fish.
Commitment to biohuts
The Sant Feliu de Guíxols Yacht Club was the first port in Spain to install biohuts to protect junior fish from their predators. It is a project promoted by the French company Ecocean that aims to bring artificial habitat adapted to ports in order to take advantage of these infrastructures in aquatic and marine ecosystems and provide the key functions of breeding habitats: shelter and food resource.