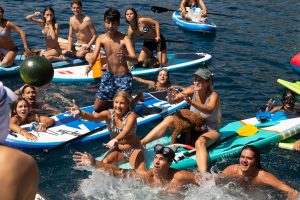 More than a hundred people in thirty boats have participated in the Treasure Hunt, the craziest activity of the summer at the Sant Feliu de Guixols Yacht Club.
Several families gathered this Saturday at noon in Cala Vigatà to try to find the hidden treasures in and out of the water. In total there were fifty-three gifts divided between fifty keys and three chests. Among the prizes at stake for the chests were a hotel night, a clock and a tablet. The keys contained gifts such as towels, marine decoration objects or nautical items, among others.
Throwing fruit into the sea
One of the most anticipated moments of the activity was the throwing of fruit into the sea from the boat of the Nautical Club. Children and adults did their best to catch one of the five watermelons, ten melons, fifty peaches or a hundred plums that were thrown into the water.
At the end of the activity, the Club Náutico distributed a bottle of cava to each of the participating boats.
Acknowledgements
The Treasure Search is an activity that is carried out thanks to the collaboration of the following companies: Imnasa, Ca l'Àngel, Náutica Mayor, Náutica Casas, Hotel Barcarola, Campio, Llagosnet, Meroil, AITEC and Mr. Ferrer. Javier De Blas.