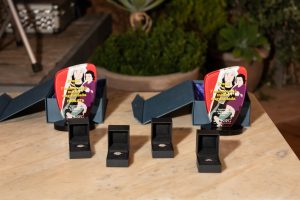 The social mass of the Club Nàutic Sant Feliu de Guíxols has gathered one more year for the Members' Party. It was a festive evening that took place on Saturday, August 5 at the Nomo Náutico and served to meet again coinciding with the summer season and to present the annual awards and badges. The party ended with a DJ session.
Silver badges
Every year, the board of directors of the Club Náutico awards a silver badge to the most veteran members to thank them for their dedication to the entity. This year they have received Joan Agustí, Robert Vallribera, Joan Mompó and Joan Ros.
Solidarity cheque
During the evening, the solidarity cheque for the Black and White Festival 2023 was presented to the TRESC Foundation, which ensures the socio-occupational inclusion of people with disabilities and mental health problems. This year's contribution was 6,000 euros.
Decked boat competition
The Members' Festival also served to present the prizes of the contest of decorated boats of the Mare de Déu del Carme. The winner was Ivan Martinez with his boat Squalo. The boat Geima by partner Javier de Blas received the finalist award.